Electric Vehicles Available to Buy & Improvements for them
eMileage means much more efficient mileage.
Extended, electric, environmentally-responsible driving can be exciting, exhilerating and easy.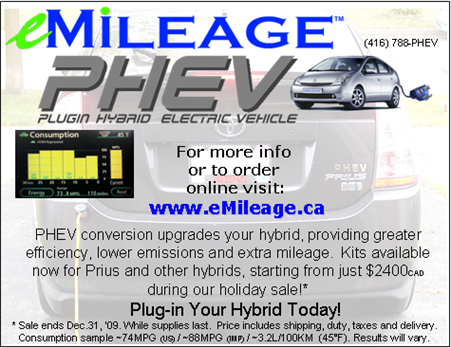 An advanced Lithium Ion based power system is installed into the rear storage or spare tire compart-ment of the Toyota Prius. This system converts what is already the leader in fuel efficiency, into a Plug-In Hybrid, capable of extremely high MPGs and extended electric-only range. The system is simple to operate and is recharged from a standard power source using a standard heavy duty extension cord.
If you already own a Hybrid, particularly a Toyota Prius (Either a Gen. 1, or a Gen II: 2004 - 2009), eMileage is offering a Special Chrismas Sale on their PHEV (Plug-in Hybrid Electric Vehicle) Conversion Package, beginning at just $2,400 for a 2 KiloWatt (2 kW) Package!
(Prices Valid from Nov. 1 to Dec. 31, 2009!)
The 7 Best Electric Scooters: From Prototypes to Production Models
(Treehugger.com Article)
Electric Scooters: We've been writing about all kinds of scooters for years, but because of high oil prices, they're now seeing a renaissance of sorts. With 30% of Americans saying they would consider riding a scooter--even some people we wouldn't expect to--and sales of scooters up by 200% (and that was as of two years ago), now seems like a perfect time to revisit some of our past scooter coverage and bring it all together. Following are our favorite electric scooters, including production models and concepts
17 Electric Cars You Must Know About
(Treehugger.com Article)
Electric Cars: You Want 'Em? We've Got 'Em!
Over the past 3 years, we've written about many electric cars here on TreeHugger. We think it's time to look in the rearview mirror, so here's an overview. If you see anything you like, just follow the links to see the original articles.
Zenn Unplugged
A Site with information about how to upgrade the Speed of a Zenn from 25 mph to 35 mph (or more).
Alien Scooters
Out of This World Transportation.
Aptera
The Aptera was designed from the ground up as an electric vehicle, and later as an extended range electric vehicle.
Phoenix Motorcars
Phoenix Motorcars was born in 2001 set on a vision to manufacture zero-emission, freeway-speed fleet vehicles.
Tesla Motors
The Tesla Roadster - Now in Production. 3.9 0-60! 244 miles per charge!
BMW to Make Electric Mini. Only in California. Only 500 of Them.
Are you an optimist or a pessimist? Following VW's announcement that it would make a limited number of its 1-Liter 282 MPG car, BMW says that it will build 500 electric Mini Coopers for the Californian market.
How Much are
YOU Paying?
Click to get access to
More Cities/States.