Changing Vehicle Registration - from 'G' to 'E' Electric
This Page is provided as a Time Limited Free Benefit, to help you understand some of the Underlying issues in Converting a vehicle from Gas to Electric, and getting it Registered as such.
There has been a long running challenge between MTO Officers and Interested Electric Vehicle Converters in Ontario as to know how to change their Registration over from 'G' Gasoline, to reflect the proper status of the Vehicle as Electric by making the Registration State 'E' for Fuel = Electricity.

The page Getting or Changing Information on a Vehicle Shows the Actual Information provided by the MTO itself, and it is the key information to this process.


| | | |
| --- | --- | --- |
| When you arrive at the web page - the top should look something like this: Click the Picture for a Large Image. | | The Part you want is near the bottom. |
One of my contacts - after a long winded struggle with a Licensing Office in Hamilton, finally took the information instructed by this page in the link above, and went to a different town.
---
In his own words:
Well, I went to the local (Barrie) license bureau this morning to get an "Application For Registration" form, as indicated on the government website. When I arrived there (zero line-up, by the way), I spoke with a pleasant middle-aged woman and asked her for said form. She said that there is no actual form, it is the one that they utilize within their computer system to process the application - called an "04", according to her. She asked me what it was that I was changing on the vehicle, and I indicated that I needed to get the "G" changed to "E" and the cylinders changed from "4" to "0".
She said "is that all?" Yes, said I - just bring in your vehicle registration and we can do right here on the computer - and she actually showed me on the screen the area - and then even entered the change, based only on my license plate "ESCORTEV". She said that I needed to bring in my registration though, as she had to make sure that it was replaced with the altered one.
-- That was Day one - Just Checking out what to do, after getting the information stated above.
-- Then - the next response:
WooHoo - Barrie is the place to be - I am now the proud owner of a "legal" (see attached / Below) "E"lectric Ford Escort! It was done in less than 3 minutes and at no charge, right here in the Barrie (Bayfield Mall branch) License Bureau. No hassles, no issues, no surprises - the way it should have been in the first place.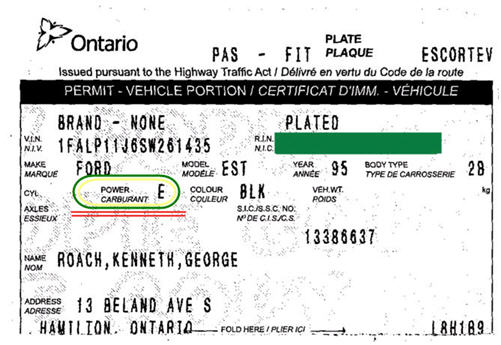 ---
(Hard Copy - pdf file)
Electric Vehicle Fuel Changes - MTO Pages - For Printing
The Link - Again -
http://www.mto.gov.on.ca/english/dandv/vehicle/getinfo.shtml
There is now an updated set of Instructions on the Ministry of Transport - Ontario (MTO)
-
Here
Any Questions can be directed to
robert@myelectricfly.com
How Much are
YOU Paying?
Click to get access to
More Cities/States.